Trello – Review : sodeluj, povečaj produktivnost in enostavno načrtuj projekte.
Trello je zelo enostavno orodje za vodenje projektov. Je prijazen za oko in razmeroma preprost za uporabo.
Trello in njegove značilnosti 
Njegove zanimive ponudbe raznovrstnih orodij so me navdušile. Poglej, kaj ponuja:

Trello je spletno orodje za vodenje projektov, ki ga je leta 2011 oblikoval "Fof creek Software". Kasneje je Trello kupil Atlassian. Od tu naprej, pa se je začela zgodba o uspehu:
Trello vsebuje digitalno nadzorno ploščo, na kateri lahko ustvariš, organiziraš in razvrščaš dejanja po prednostih.
Na voljo je omejeno članstvo v Workspaceu.
Člani ekipe se lahko povezujejo in sodelujejo pri projektih s pomočjo sistema kartic. Te jim omogočajo dodajanje komentarjev, povezav, datotek in fotografij na kartice projektov.
Kartični sistem je postal tako uspešen, da je med mnogimi orodji za sodelovanje in produktivnost v timih, prepoznan kot »Trello Look«.
Trello je povezan s številnimi aplikacijami – Slack, Google Drive, Jira, e-mailingom preko dodatka za Gmail
Ima zmogljive funkcije sodelovanja
Možnosti aktivacije različnih pogledov (barve, ozadja, oblike in podobno)
Možnosti avtomatizacije – Butler Automation
Ukaze za koledar in rok projekta
Avtomatizacije za e-maile.
Vse to zelo pomaga pri povečanju uspešnosti pri zastavljenih ciljih. Tako za posameznika, kot ta tim.
Cenik: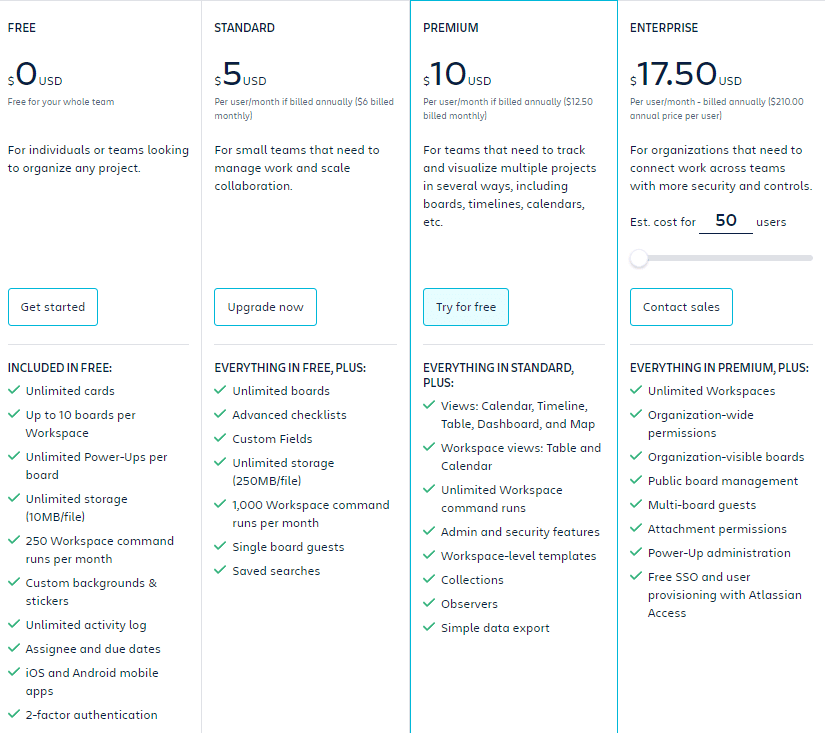 Učinkovitost
Tako kot vsa orodja ima tudi Trello prednosti in slabosti
Prednosti

Brezplačna verzija je bogato obložena z različnimi orodji.
Prijazen do mobilnih naprav (aplikacija je na voljo brezplačno).
Veliko možnosti integracij.
Čist in preprost uporabniški vmesnik.

Slabosti

Brez funkcij poročanja.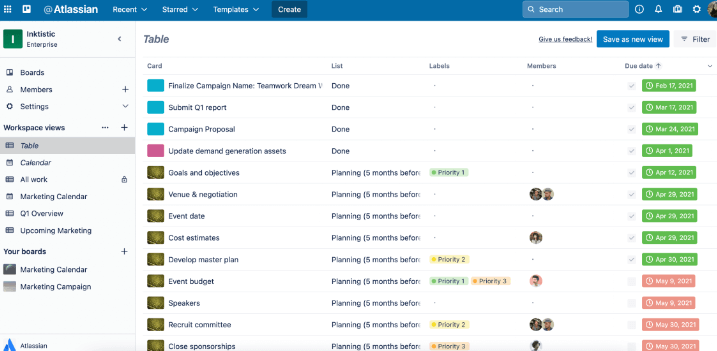 Zakaj Trello?

Trello je odlično orodje za poenostavitev kompleksnih projektov. Omogoča to razdelitev posameznih faz na dele, ki jih razvrstiš po časovnici.
Odlično se izkaže tudi kot orodje za sodelovanje med člani ekipe.
Daje zelo dobre možnosti komunikacije in prenosa, uvoza ter izvoza dokumentov.
Omogoča ti dober pregled nad projekti – iz ptičje perspektive, ki ni monotona. Je barvita in oblikovana po tvojih željah.