Threads – Obetavna alternativa na Twitterju? Julij.2023
Threads – Obetavna alternativa Twitterju?
Threads, ki je  Instagram-ova aplikacija za besedilna sporočila, je bila predstavljena ta teden in je v prvih 48 urah zabeležila neverjetni porast števila prijav.
Pot do  100 milijonov uporabnikov, je Threads dosegel hitreje kot hitreje kot ChatGPT, TikTok in Instagram. Pravi šprinter.
Število uporabnikov Threads je zdaj več kot 95.341.668.
Threads (ali Niti)  bi morale doseči 100 milijonov uporabnikov v nekaj dneh po uvedbi, glede na tempo ki je veljal za ostale aplikacije.
Vendar se je zadeva odvijala drugače.
Threads (niti) so to opravile zmagoslavno:
Za primerjavo:
• ChatGPT je v dveh mesecih dosegel 100 milijonov uporabnikov .
• TikTok je v devetih mesecih dosegel 100 milijonov uporabnikov.
• Instagram je v dveh letih in pol dosegel 100 milijonov uporabnikov.
Povezava med računoma Instagram in Threads olajšala  1,6 milijarde obstoječim uporabnikom Instagrama zunaj Evropske unije. Prijava je lažja in skoraj avtomatska.
Po prijavi lahko uporabniki zaženejo aplikacijo že isti dan.
Kako se je Twitter odzval na svojo konkurenco?
Twitterjev odgovor na naraščajočo konkurenco je bilo pismo, v katerem je Meti zagrozila s tožbo. Namigoval je,  da je Meta med drugim zaposlila nekdanje Twitterjeve zaposlene z dostopom do poslovnih skrivnosti.
CEO Twitterja Elon Musk se je na morebitno tožbo odzval na Twitterju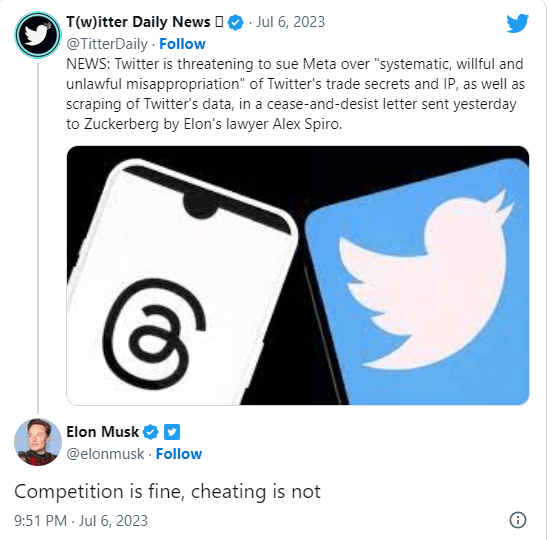 Threads in pomisleki glede zasebnosti
Aaron Mendes , izvršni direktor in soustanovitelj PrivacyHawk, je komentiral pomisleke glede zasebnosti:
»Aplikacija Threads samo razkriva vse iste podatke, ki jih *morda* zbirajo v svojih primarnih aplikacijah, Instagramu in Facebooku. To ne pomeni, da jih zbirajo pri vsaki osebi. Odvisno je od tega, kako uporabljate aplikacijo in do česa jim omogočite dostop. Je pa opomnik na globino podatkov, ki jih Meta zbira o svojih uporabnikih, in na to, da ste izdelek, ki ga uporabljate v sklopu njihove storitve.«
In za konec:
Zanimivo je, da to ni prvi Instagramov poskus nove aplikacije z imenom Threads.
Leta 2019 je Instagram predstavil Threads kot aplikacijo za sporočanje, osredotočeno na kamero, za deljenje fotografij, videoposnetkov in posodobitev stanja z ožjim krogom prijateljev.
Torej Niti niso povsem novost, kaj ne?
Vsekakor pa – spremljaj novice še naprej in poglej mojo ponudbo. Tudi ta je kot Threads  – ni čisto nova.