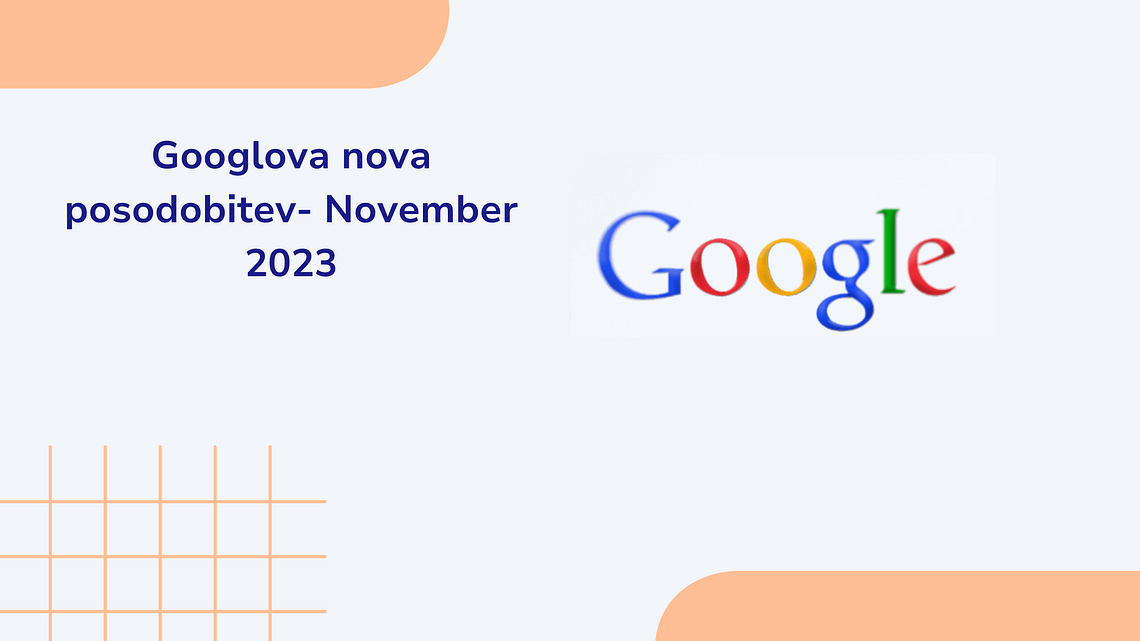 Googlova nova posodobitev- November 2023
Google je izdal svojo osnovno posodobitev za november 2023.
Posodobitev se, kot je v Googlovi navadi,  še vedno uvaja in bo v celoti zakoličena  v naslednjih nekaj tednih.
Če še ne veš: osnovne posodobitve so le občasne prilagoditve algoritmov, ki poganjajo Googlove rezultate iskanja. Njihov namen je izboljšati ustreznost in kakovost spletnih strani, kise prikazujejo v rezultatih poizvedb.
"Imamo različne sisteme, ki veljajo za jedro našega procesa razvrščanja. Osnovna posodobitev tega meseca vključuje izboljšavo drugačnega osnovnega sistema kot prejšnji mesec"
Google je izdal tudi posodobljena vprašanja in odgovore o delovanju posodobitev iskanja.
Tukaj je nekaj pomembnih stvari, ki jih morate vedeti o najnovejši osnovni posodobitvi:
Večina lastnikov spletnih mest morda ne bo potrebovala izvesti večjih sprememb, kot odgovor na Googlove posodobitve. Če pa opaziš drastične spremembe (promet, uvrstitev), potem ne bo narobe če se o tem pozanimaš na A Q&A on Google Search updates.
Dejstvo pa je, da Google prisega in podpira visokokakovostno in uporabno vsebino. Njena dolžina ni tako pomembna, kot vrednost.
Google Search Central je novico o posodobitvah objavil na Twetterju (X)
Today we released the November 2023 core update. We'll update our ranking release history page when the rollout is complete: 
Related to this, we've posted a Q&A on Google Search updates as a refresher about how updates work"
Tukaj je nekaj dodatnih informacij, ki jih je Google objavil o najnovejši osnovni posodobitvi:
Osnovne posodobitve se razlikujejo od Googlovih sistemov razvrščanja. Posodobitve prilagodijo algoritme, medtem ko sistemi za razvrščanje ustvarijo rezultate iskanja.
Na leto se zgodi na tisoče posodobitev, vendar so le nekatere pomembnejše javno objavljene.
Če je tvoje spletno mesto prizadeto zaradi osnovne posodobitve, to ne pomeni nujno kazni zaradi vsiljene pošte. Vzrok so lahko druge težave.
Google se poskuša izogniti objavljanju večjih posodobitev med naporno praznično nakupovalno sezono, vendar to ni vedno izvedljivo. Zato se ta posodobitev dogaja sedaj – tik pred prazničnim časom.
Vprašanja glede težav pa lahko postaviš na forumih skupnosti Google Search Central.
Posodobitev je vključevala izboljšave drugačnega osnovnega sistema kot prejšnji mesec.
Google priporoča, da se osredotočiš na visokokakovostno in uporabno vsebino, da bi zagotoviš, da bo tvoje spletno mesto najbolje uvrščeno v prihodnjih posodobitvah.
Lahko si brez skrbi. Svetovanje v zvezi s tem ti je na voljo le s kikom na ta obrazec: